If you love disco-flavored music, you're gonna love Miley Cyrus' new hit single Midnight Sky. Miley's first track of 2020 is said to touch on her marriage with Liam Hemsworth, which ended in 2019.
Did you miss her? We did, too. Along with Miley's confident performance, the Midnight Sky music video is an explosion of 80s glam rock, glitter, diamond-studded accessories, and more glitter!
We couldn't get enough of Miley's independent rock chick performance so we decided to create our own video using the VCUS app inspired by the funky 80s glam vibe. Here's what to do to walk down Midnight Sky in your next video story.
Get into the Groove
The 80s: The Golden age hits of energetic anthems. This music was tied to punk rock, dance music, synthesizers and other electronic instruments. Find your 80s anthem by trying out different beats in the inside the VCUS app. The number seen directly beneath the song title is the song length. When you select 'Start shooting' you'll see the number of clips and the length of each clip for that song. Save your favorite Music by "hearting" the song, this will be automatically added to your favorites list that you can come back to later.
For our Midnight Sky inspired jam, we went with Love Love Love labeled under Groove music. This song has a music synthesizer that will take you back in time, right back to the 80s. With VCUS Pro, you'll have access to even more music to make your best video.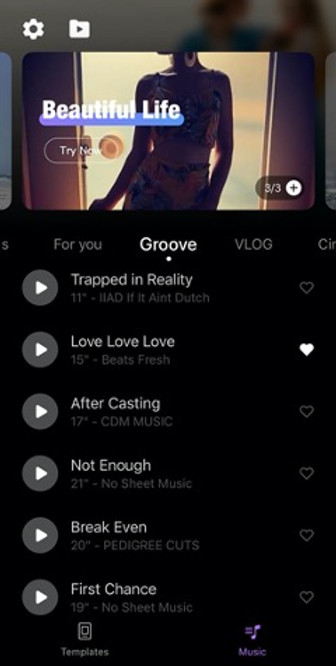 Once you've picked out your music, bust out all your sequins, tight outfits, and disco-themed 80s flare and get ready to bring on the glamour. Thank you, Miley, we wouldn't be here without you.
Filters That Inspire Glam
When you think of photos and movies from the 80s, the first thing that comes to mind is a vintage feel that gives that era a retro flair and aesthetic. VCUS has so many cool Filters that give that look and feel. Once you're ready to apply a Filter, try using the RUNWAY Filter, available only on VCUS Pro, for your Midnight Sky-inspired video.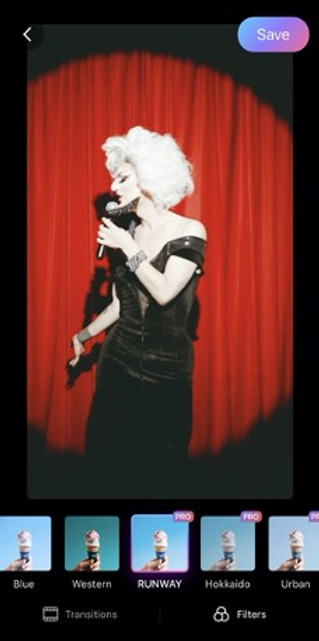 This Filter will make your video look retro glam which is perfect for this era. Give your video some character by applying this vintage effect and you'll see that one simple feature will give your video a retro tone in seconds. Now you're one step closer to bringing your 80s masterpiece together.
Transition Effects to Impress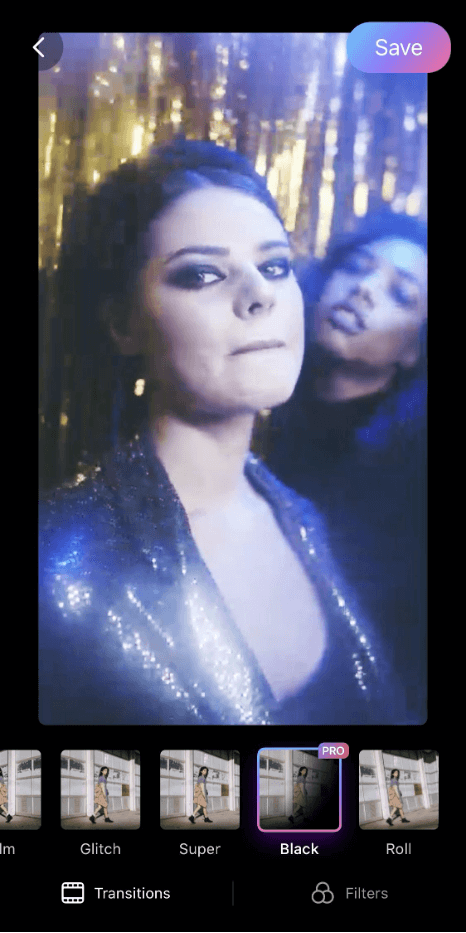 There's one thing that helps to "glue" your video clips together to make your video feel like it's a single cohesive story and not just a collection of random pieces.
That is – video transitions.
Transitions are animation effects used as a method of changing the scene from one view to another. VCUS has a wide array of Transitions to choose from, and with VCUS Pro you'll have access to the Black Transition. The fade to black transition effect looks great with darker videos.
Select Black and watch as the scene changes with a dark fade from one shot to the next. Finding your favorite Transition effect will help you craft a mind-blowing video experience, so we recommend learning about all our video effects and Transitions available in the VCUS Pro, what they do, and how and when to use them.
Remember, video Transitions help you "glue" your video clips together, and when creating content for online audiences, people expect to see attractive effects in Transitions.
Pick up the Pace
Let's say a clip is only a couple seconds in length, and you want to get more out of those couple of seconds. There IS a way to do this. Go to where it says 'Tap a clip to edit', then tap a single clip to make this change.
You'll notice an icon of a turtle and an icon of a rabbit. When you drag the circle towards the turtle icon, the video clip will slow down. Try dragging the circle towards the rabbit icon and watch your video clip move faster. It's fun to experiment with.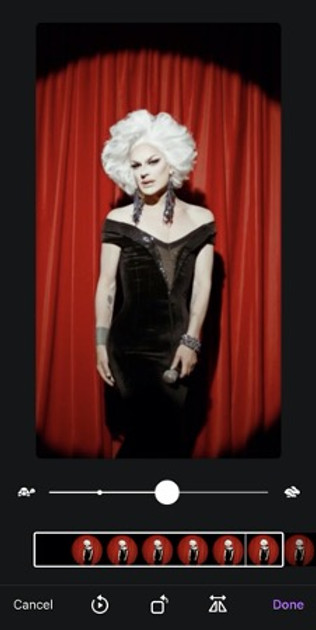 We've walked you through how we made our VCUS video, now sit back and enjoy our finished masterpiece.
Now you have all the tools and inspo you need to walk down Midnight Sky like Miley in your video stories! Make sure to upload your VCUS videos and tag #vcus on Instagram to be featured on our profile, @vcusapp.