Summer is coming to an end and school is about to start again. Travelers are returning home from dreamy vacations dreading the harsh reality of ​work​. Regardless if you're coming or going, we all have the same mentality as we enter into Virgo season. It's time to get organized and focus that energy. But, don't forget to keep your creative outlet! Did you spend time doing things you're most passionate about during the magical summer months? Hopefully, you did! In fact, you took a ton of pictures and videos to capture those moments. Well, guess what? There are so many ways on ​VCUS you can use your content to create the coolest video stories with all those captured moments. Now's the time to channel your passion and ignite your inner influencer by using the hottest VCUS Pro​ ​Templates​ to produce your very own vlog.
There's no denying, vlogs are the content of the moment and ​VCUS has all the best editing tools to let you reveal your creativity and most importantly, inspire your​ passion.​
VCUS Pro Template Features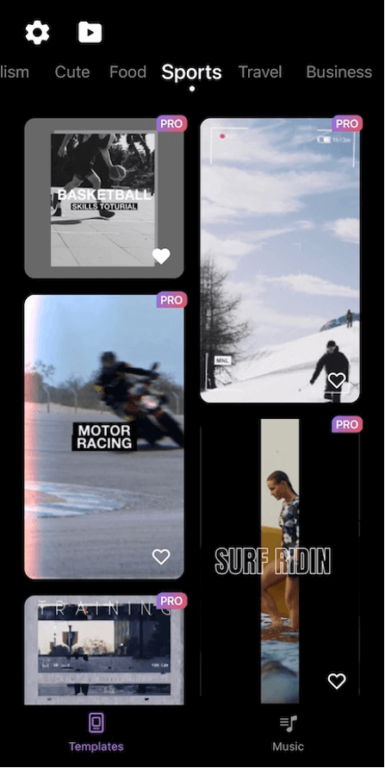 VCUS ​Pro has so many great ​Templates to choose from depending on your mood and the type of story you want to tell. If you want high-energy and fast beats, check out the ​Sports Template options. Showcase your talents by using the ​Basketball: Skills Tutorial​ ​Template​.
With 12 clips and 0:17 seconds of play time, there's room for a lot of short frames for those looking to enhance their video with more ​Clips​!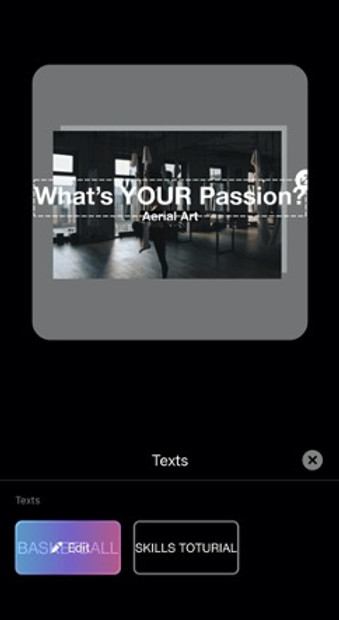 A feature exclusively available on ​VCUS Pro Templates are the ​Texts​. Once you've selected your ​Template​, go to where it says ​'Texts' then edit the words to personalize your video. While choosing the color and font style are not options, you're able to choose between lowercase and uppercase, as well as use numbers and special symbols. Texts are featured during your video as seen during the ​Template ​video. This means your personalized words will only appear for as long as they appear during the ​Template video. Resize and move the text to a different location by dragging the arrows along the dotted lines.
Personalize your ​Texts​ with your favorite inspirational words!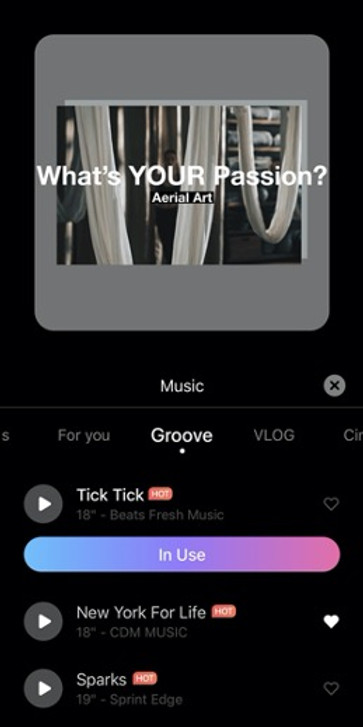 Every ​Template​ on ​VCUS Pro​ comes with pre-selected ​Music​. Your inner artist might tell you to pick a different beat and that's totally fine! ​Music​ can be edited inside each template, but personally, we loved ​Tick Tock​ that came with ​Basketball: Skills Tutorial. Check out some of the other ​HOT​ options in ​Groove Music​! One of our absolute favorites is New York For Life​.
Experiment with Advanced Filters
There are a ton of ​Filters​ to experiment with, and even more are available on ​VCUS Pro​. Each Template​ comes with a default ​Filter​ but you change it to make your video more unique.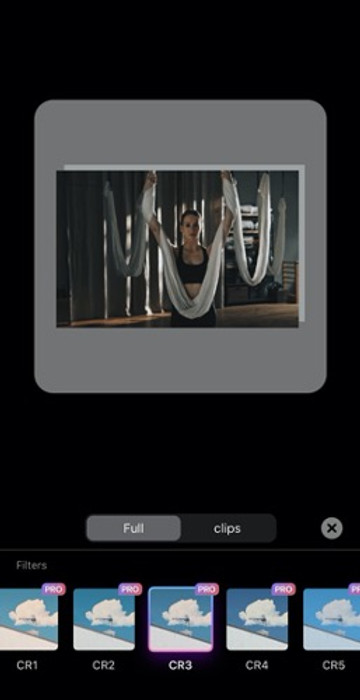 An example of a ​Filter ​only available on the ​VCUS Pro ​is the CR3. ​This ​Filter has a grayish tint and deep contrast. The ​CR3 ​Filter ​creates a serious mood, which is why we loved it as the main Filter​ for this video.
In case you didn't already know, you're able to pick a different ​Filter ​for each clip if you wanted to! Honestly, that might be a bit much, but giving a few ​Clips​ a​ Filter​ different from the rest looks cool.
The ​Music​ beat in ​Clip​ 7 speeds up while the video shows an impressive aerial acrobatic trick. In order to enhance that moment, the ​Glow Filter​ was applied to only that ​Clip​, creating a pulsating light movement around the image.
If you go to ​Clips, ​you will find each ​Clip​ ready for editing. Once you've selected a ​Clip,​ it will show you the ​Filter​ that is applied to that ​Clip.​ The ​Clip​ will continuously replay itself giving you a chance to hear the ​Music​ that is played for those couple of seconds.
Add More Speed to Your Videos
A couple of seconds may not seem like enough time on some of the shorter ​Clips​. Never fear! There is a way to speed up each ​Clip​ so more footage can be seen.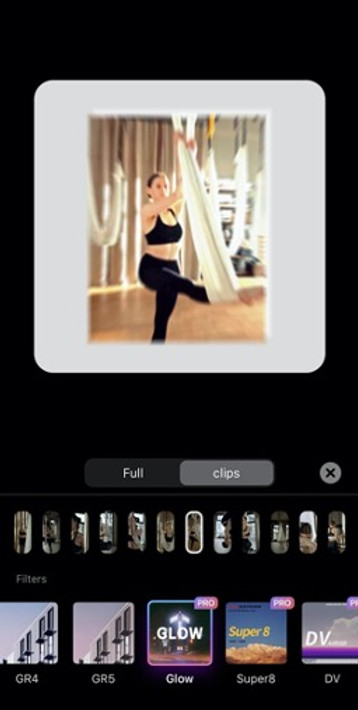 Tap a​ Clip ​to edit. Move the circle towards the rabbit icon for more speed, or move the circle towards the turtle icon to slow down.
There, now you have it! All the tools you need to create your own influencer video using one of the ​VCUS Pro Templates​. We'd love to see what your passions are so tag us ​#vcus​ when you upload your ​VCUS​ video to Instagram to be featured on ​@vcusapp.