When you see Jack o'lanterns indoors and outdoors, it indicates that HALLOWEEN IS COMING!
Halloween is the day that both kids and young people like to celebrate. Kids will dress up in cute or spooky costumes and carry their small pumpkin baskets, knocking your door from house to house and keep saying: "Trick or treat" for asking for the sweets. Therefore, please remember to prepare the sweets in advance, otherwise, a trick instead!
For young people might choose to celebrate with their buddies. They will dress up costumes, have spooky-chic makeup, and join the terrifying activities of Halloween-limited theme together.
On such a funny day, taking photos and videos to record this moment is essential!
Therefore, VCUS app launched a new theme of template "Halloween", you can use the template to create as a short video quickly and easily for this unforgettable memory.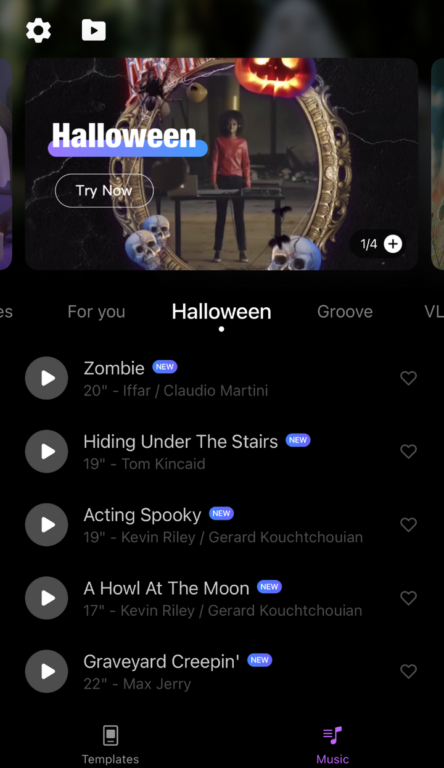 Let's take a closer look about the features!
Background Music: Choosing your wanted Background Music before shooting or creating your video. Adding background music can increase the horror feeling of your video. For this reason, VCUS app also updated a music group which named "Halloween" and launched 7 new songs in it: Zombie, Hiding Under The Stairs, Acting Spooky, A Howl At The Noon, Graveyard Creepin', Mysteries and It's Time For Halloween. So that you do not have to worry about what kind of background music you want to apply. Also, each music is longer than 15 second so all of them can cover to the length of your video.
All of the music in this group is perfect match for creating Halloween videos.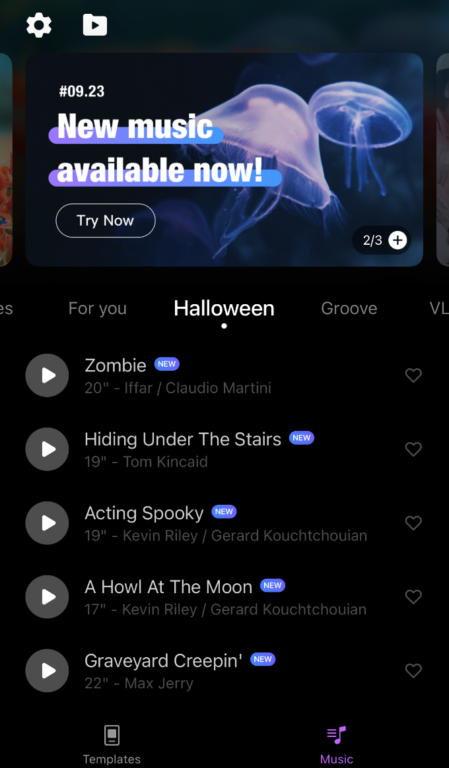 Recording The Moment Immediately: If you want to record on the day of Halloween, no problem! You can either simply click "Shoot This Type" by using VCUS app own template or clicking "Start Shooting" after choosing the music. You can shoot each clip according to the specified length. Meanwhile, you can adjust the video as full screen or square, Slo-mo, or even doing selfie.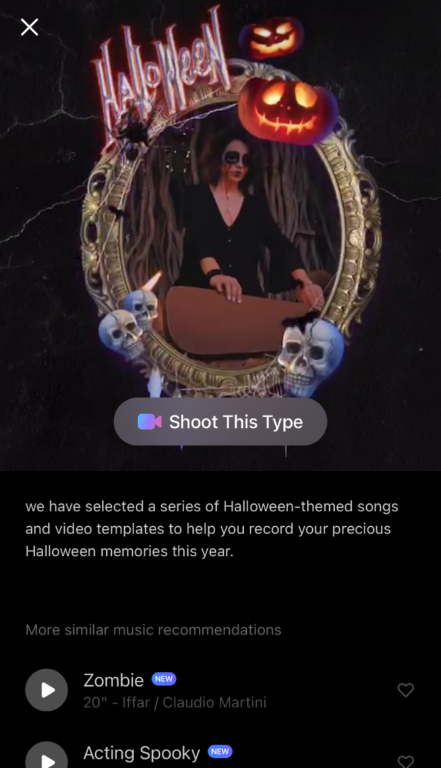 Post-production: It is also fine if you want to create your Halloween video afterwards. Clicking "Shoot This Type" and "+" in the bottom left to add the required number of clips or photos to the template. Then you can easily start to create your own Halloween video.
Applying Stunning Effects into the video:
Automatic Transitions: VCUS app has in total of 9 transition effects for users. Clicking "Transitions" you can find all the effects and choose the most suitable one. No complex skills required the transition will automatically applies in your video.
Tip for transition effects: Before applying the transition effect you can find the similarities of two videos in order to connect the videos coherently, which it will look more flexible and smoother.
No idea which is suitable for you? Try out White, Black or Film transition. These 3 transition effects are suitable for spooky videos and will not make your video look awkward.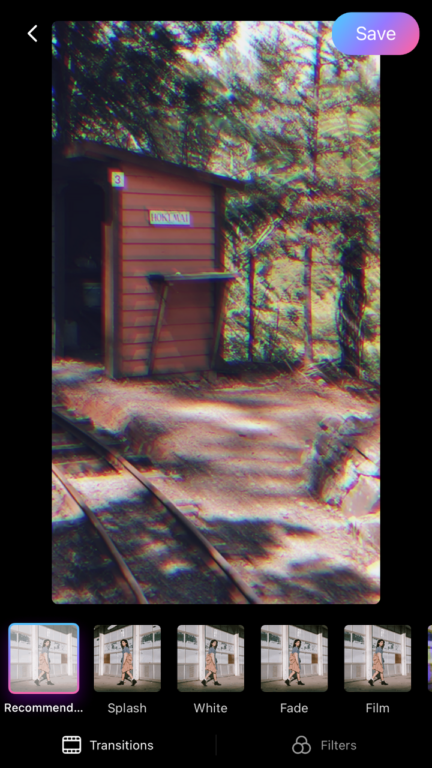 Filters: The colour has a magical power and it will bring a completely different feeling if you do a slight change. Therefore, do not forget one of the important parts of editing video – applying Filters! VCUS app provides heaps of filter effects for each user thus you can choose the best one to apply it directly in your video.
Spooky day with spooky effects, these filters are recommended for your Halloween video: BK, 70s, Oldfilm, VHS, Video Tape and DV. Try it now and you will find the difference immediately!
Action speak louder than words!
VCUS app is free to download and easy-to-produce app, what you only need to do – adding the photos or clips, choosing the part you want to show and applying the effects into your video at the end. The video of your own style is completed! Use it today you will be attracted! Also, you will find that VCUS app offers a variety of different video templates. Therefore, no matter what type of video you want to create or no idea how to create, you can find the inspiration via the VCUS's templates. Everything in VCUS app is mix and match!
Upload your Halloween video today and tag #VCUS on Instagram to get featured! You can also follow us @VCUSAPP to ensure you will not miss any updates about the app.