Valentine's Day – the day of expressing love, it also has a special sense of ceremony. Do you start to see someone expressing affection through their Moment on the social platforms? We also want to express our love to everyone: Happy Valentine's Day!
Perhaps, you are going to a date in the name of love with delicate makeup, receive a gift specially prepared for you by your partner and made the wonderful memories on the night. In order to let everyone remember this beautiful day, VCUS APP launched a Valentine's Day theme video template and features, to let you to find your own warmth.
So, let's take a look at the Video Template of Valentine's Day at first!
On the template page, we can clearly see the VCUS APP specifically designed a category for Valentine's Day and named it "Feb 14th" with two sweet hearts. There are currently 8 video templates on the page, no matter the frames or the texts that reflect a strong sense of love.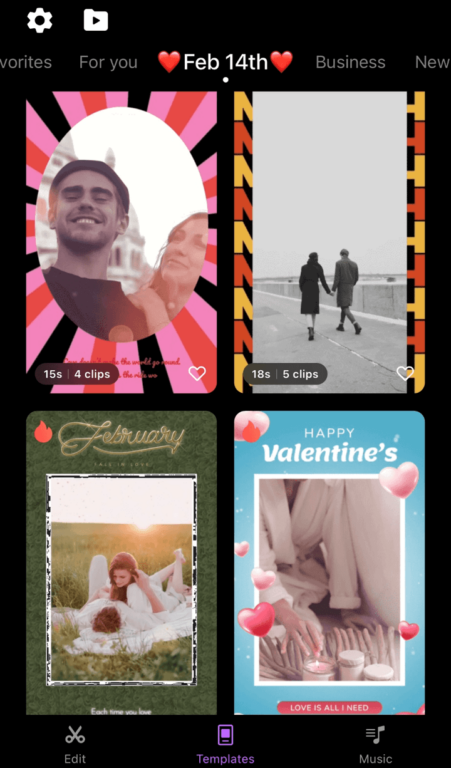 If you are new to using a video editing app, these templates can give you a good inspiration. You can follow the template to create your own Valentine's Day video. But if you are an experienced person and have your own ideas, the templates can also give you some ideas that you might not think of, and it makes your videos more perfect.
Moreover, these templates are maintained within 15 to 25 seconds, and clearly indicate how many clips are needed. If you want to add more videos or photos, you can choose the templates with more clips to create your unique video.
Do you really want to try it out after reading the introduction of the Valentine's Day video templates? Do not worry, let's see what else VCUS APP has done for this day!
· Music Category has been updated:
We are creating a video for this sweet day and a romantic background music is essential! Although the video content is good, we also need a love song to embellish this love festival. For this reason, VCUS APP added Valentine's Day theme background music (named as "Feb 14th") in the Music category, so that everyone can find suitable music faster and more conveniently to use in Valentine's Day video.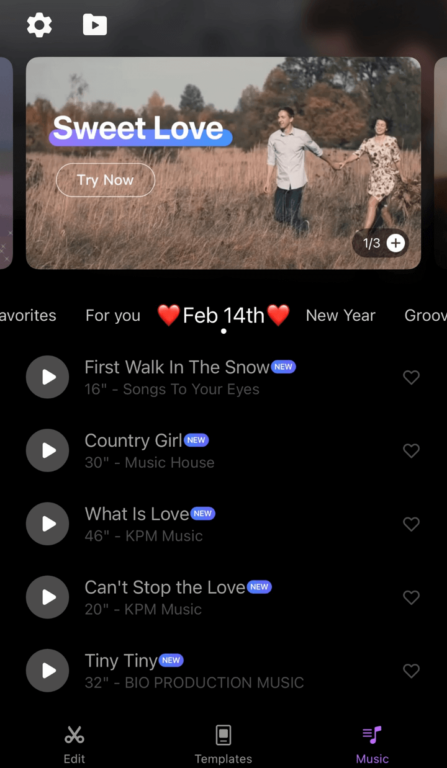 So far, there have 10 background music in the group of "Feb 14th", they are energetic, elegant and also having female voices who sang their deep love. All of the background music is beautiful in melody and create a romantic and sweet mood. No matter which music you choose, it can express the emotion of love very well.
· Stickers have been updated:
When you use a template to edit your video, the template has preset some features, such as the stickers. If you like them you can continue to use it and add the new ones. In the Sticker section, VCUS APP, which focuses on user experience, has specially added stickers designed for the Valentine's Day.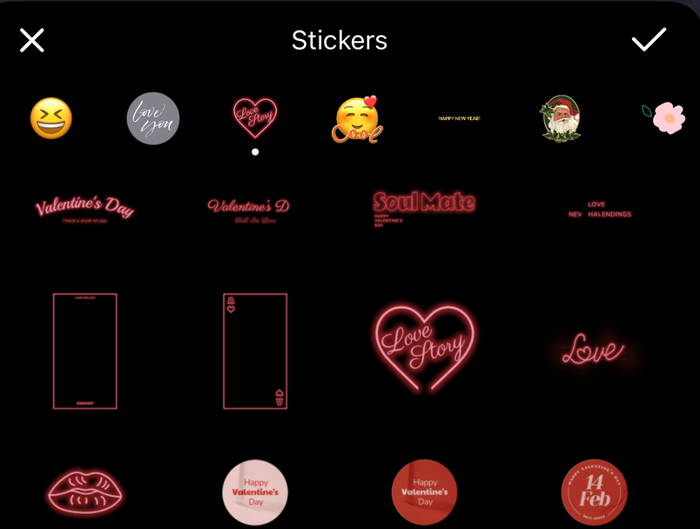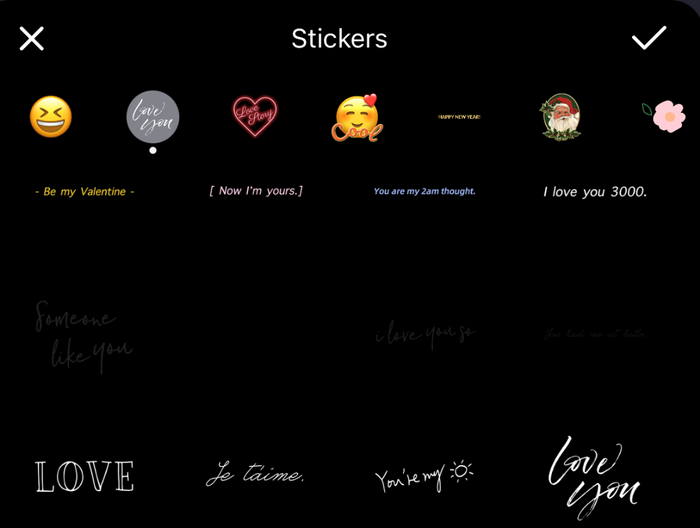 Therefore, if you want to change the stickers that match the theme of Valentine's Day, it is also possible. Simply clicking "Add a sticker" you can find the stickers you like, drag it to the frame you want to display and it is done!
· Other Features can be changed
Even you are using the template to create the video, you can change the features any time if you want to, such as:
Transactions – There has more than 20 transaction effects that you can choose. A suitable transaction effect makes the video connection be smoother.
Texts – If you think there are more blank spaces in the video, you can choose to add some texts into the blank spaces to express your thought.
Filters – Sometimes the preset filters are not completely suitable for your video. Therefore, choosing the best match one and makes your video looks more gorgeous.
But please remember, before saving your video try to preview your video, if you find something unsatisfactory and make adjustments!
VCUS APP uses its own way to express love and happiness to everyone on this sweet day. Its function is flexible and versatile but it is very simple to operate. There has many special effects and filters can be added to make your video romantic. VCUS APP is still making progress, more video templates and more background features will be launched. If you do not want to miss any information, you can follow us on Instagram (VCUSAPP) to receive the latest news!