Today, music is one of the essential elements when creating short videos. Choosing the proper music can not only embellish your video, but also, expressing the emotions to the audiences. In VCUS app, you will find a variety of music. But sometimes, when choosing the background music, you do not know which one to choose? And, do you worry about which music is the best for your video?
These problems will be SOLVED immediately right now!
The following will introduce all kinds of background music in VCUS app, which are used in different video types. VCUS has classified the type of music – Groove, VLOG, Cinematic, Relaxing, Happy, and Long Music. Also, VCUS app has classified several common video types, such as Cute, Sports, and Travel.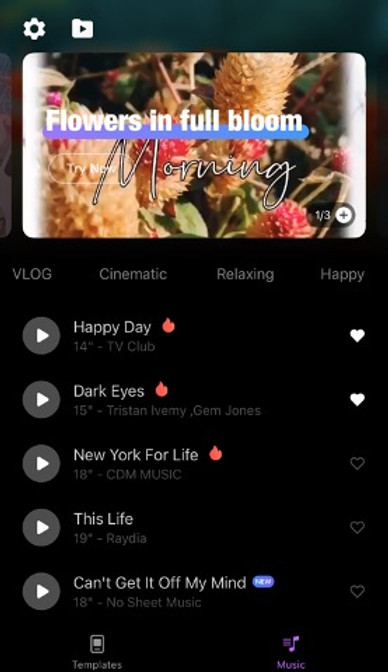 Below, we will select some music from the music group in VCUS for your reference to apply into different scenario videos.
First of all, let's do the Cute videos. In this section, we can also subdivide your video type into such as special moments, pets or daily life.
For Special moments such as kids' birthday, the music of: Aren't I Clever Mummy, Bouncy Summer Party in Happy Group. The music made people feel happy and naïve, which are very suitable to apply into kids' video to match with their happy smiles and lovely acts.
Love Burst or Double Bass in Relaxing Group will be very suitable to use in the special occasions, such as the Valentine's Day or the day of the Proposal. Soft music, but with a sexy style at the same time. They match well with the love story videos.
For daily life music, some brisked, relaxing and soft music is perfect for recording the daily videos. So, you can choose Lazy Violin in Happy group, Deep Forest in Relaxing group, Magic Glow, Fireplace or Lemonade in VLOG group to apply into the video.
If the video type is about the pets, you can choose Chika Boom Klatz or Ballroom Blitz in Happy group for your video. These music are brisked and naughty. These are very matching for your pets' video.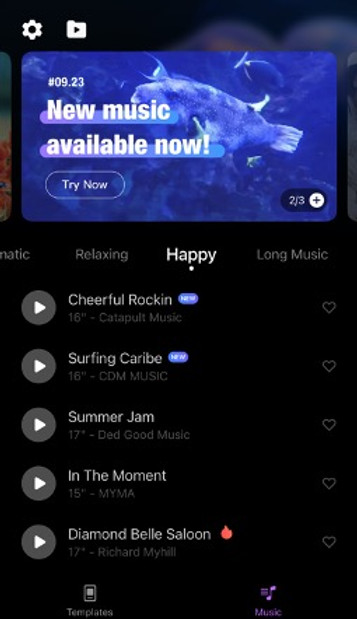 Secondary, introducing the suitable music for Sports videos. Generally, Sports Videos have the expression of dynamic and challenged, so it is best not to use gentle or cute music. There have a lot of proper music in the Groove music that can use, such as Off The Gid, Give Me Your Hands, Trapped in Reality or Sexism. But also, Bouncy Castle in For You group in VCUS app are also your choice for creating the Sports videos.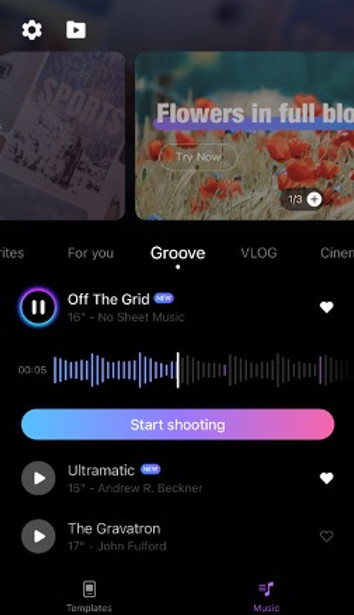 Travel videos should be the videos made by the most people. it can also be divided into many types, such as climbing, diving, road trip or vacations, etc. For this purpose, VCUS app provides a lot of background music suitable for Travel videos.
For mountain climbing or diving, you might need some challenging music for the videos: Popstar, Voices, Plucked or Welcome To Paradise in Groove music. You will find something different feeling when you are using one of this background music.
If it is a Road trip or vacation video, relaxing, joyful and pleasant music is the best. So, no matter using the music of Cheerful Rocking, My Journey Begins or In The Moment in Happy Group will be your best choice.
You will find that in VCUS app, the background music you use will not be repeated in different scenes. It can say that in the VCUS app, you can find more nice background music to use in your video with different scenario, and suit for your video. Therefore, highly recommended that spend sometime to play around the music and find out your taste, get familiar with the list to get the best and match music to meet your requirements. Furthermore, the music list will increase more and more by the time. So, please remember do not miss this out.
Of course, you can use the music in template, but if you want to make a video of your own style, you cannot be lazy. Let's try the background music recommended to you in your video and you will never disappointed! At the end, we also very welcome you to share your favourite music from the music list in VCUS app.