Recently, there has been a big trend for Snap-to-Beat short videos on different online-video sharing platforms. This is a video made by adding various special effects and music to the transition scene. However, a lot of people think that it is very hard to create one because it needs very professional editing video skills to make a cool Snap-to-Beat video.
So, do you want to create a cool Snap-to-Beat video like other Vloggers, and keep up with the pace of the trend?
Then, VCUS is your best choice for creating Snap-to-Beat videos. There have many different templates in Tempo Group for making your own Snap-to-Beat videos in VCUS app. It can apply into different themes you want, such as Journey, Dancing, or Sports. You can also easy to choose which template is suitable for you, and create the videos by your own style.
Interested in it? Let's see below the UNIQUE FEATURES of VCUS app, to guide you easy to create a Snap-to-Beat video.
Clear Template Categories: VCUS app specifically to create Tempo Group for the Snap-to-Beat videos. There have many templates for everyone to choose when someone wants to create the Snap-to-Beat video. It is more convenient for people to look for their favourite type in this group, apply the template and create their own style Snap-to-Beat video. Normally, you need 12 clips for your Snap-to-Beat videos in app, but it only needs 8 clips in "welcome to the tempo" template. If you want to add more clips to your video, you can choose "Silhouette of woman Dancing" template, which has total of 16 clips.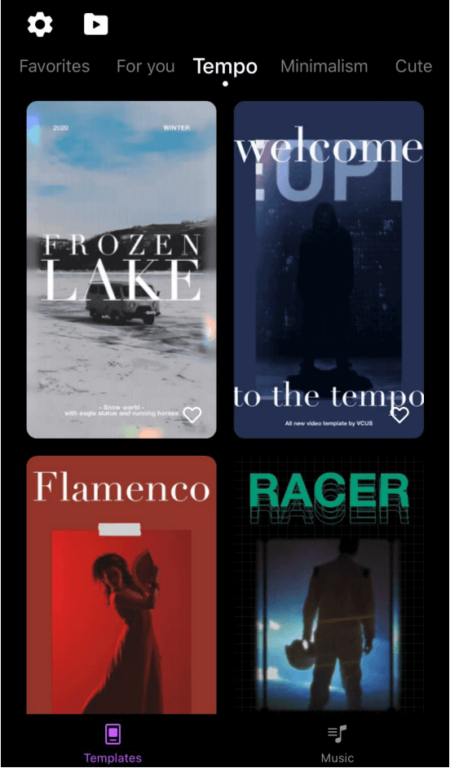 A Variety of Background Music: it is worth mentioning that most of the music in VCUS has a Snapto-Beat effect, such as Long Island, Dark Eyes. No matter is strong rhythm or soft music, each background music can be applied into your Snap-to-Beat video. Also, VCUS offers a variety of different music categories, and the classification is also very clearly. You can quickly find the music you want to use. No ideas which music is suitable for your video? It is okay, just go with the song title with red fire, all of them are the current trending music and you cannot go wrong with them.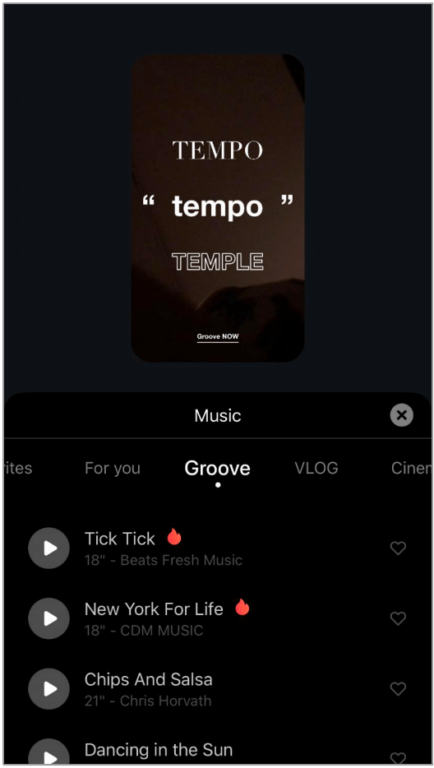 Moreover, there also have a few HIGHLIGHTS in VCUS you CANNOT MISS:
Watermark: if you do not want the app watermark in your video, you can easily close the watermark section in the app setting.
Editing Each Clip: It is clearly displayed the required length of each clip, also you can choose to edit the speed of each clip (Turtle is the slowest and the rabbit is the fastest), the part you want to keep and also rotating your clips.
Adding Various Elements: in this Text section, follow the instructions in VCUS you can simply type your feeling or your theme. You will also find many different filters in VCUS when you are editing the video. Applying proper filters such as Oldfilm, CR 2 into your video (you can choose applies into each single clip or the full clips, which makes it looks more brilliant.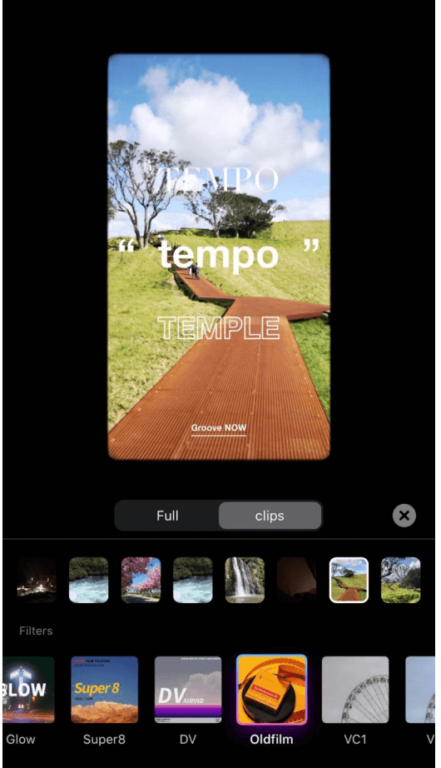 High Definition Video: you can share the video with High Definition at anywhere, in anytime. There has a 1080P option that let you save the HD video to your device.
Smart Save: there is no need to worry that you closed the app accidentally during the process of editing the video, made to lost the whole file at all. The app will automatically save your video, it will be back to the part you edited last time when you reopen the app and allows you to continue editing.
You will see the below notification when you reopen VCUS:
In VCUS app, each template has already set up the node of transition scene, you do not need a lot of post-production skills, but you can do what you want with your own Snap-to-Beat video. VCUS app is a fully functional video production app, it also offers a lot of special effects and filters. You can create very high-quality video in the shortest amount of time.
Use VCUS today and create a Snap-to-Beat video like a trendsetter and you will surprise everyone!